HubSpot is one of the top companies that small businesses turn to when in need of a great, easy-to-use, content management system (CMS) platform. HubSpot was founded with the mission to provide world-class software and services enabling our customers to get found online, convert leads to customers, and manage their inbound marketing efforts.
HubSpot has been focused on helping thousands of businesses grow by providing exceptional products such as HubSpot CRM (customer relationship management), HubSpot Sales, HubSpot Marketing, HubSpot Operations, and HubSpot CMS (content management system).
Now HubSpot brings its most requested product yet; the HubSpot CMS Starter, the HubSpot Content Management System is a great entryway into an impressive CMS integrated with your other marketing tactics, sales activity, contact engagement, and reporting. Hubspot CMS starter offers a simple-to-use web interface as well as a mobile experience to help manage your website with ease. HubSpot CMS is very user-friendly and streamlined making it ideal for small IT businesses looking for an easy way to create, publish, and manage content. HubSpot CMS starter is designed specifically for small businesses, freelancers, bloggers, non-profits, and other organizations that want a simple solution to create beautiful websites without the need of hiring a developer or designer.
Is HubSpot CMS Right for Me?
If you're wondering if HubSpot CMS is right for you, here are a few challenges you're probably facing with your current CMS or website platform:
I spend too much time do you spend on CMS maintenance and updates each quarter
I hate having to watch and manage plugins, or constantly pay for new features
It's not easy to make changes or add new designs
My development company can't turn this around quick enough; I wish I could do it myself
It's not really free to use, my time costs money.
I'm not seeing any conversions or the right traffic
If you're experiencing any of these frustrations you're not alone. HubSpot CMS starter is designed to help overcome many of these challenges and more by providing a HubSpot-built solution with the following functionality:
Secure + Plug-in Free: CMS Hub Starter takes care of the maintenance, security, and development work so you don't have to.
Easily Build Remarkable Websites: CMS Hub Starter lets marketers and developers alike update the look and feel of their website as they see fit, as often as you'd like.
CRM + CMS Unite: Get your data cleaned up and usable with the CMS and CRM integration built right into the HubSpot platform. This seamless platform lets you access all your data to inform their web strategy and understand exactly what pieces of content are resonating with their audience.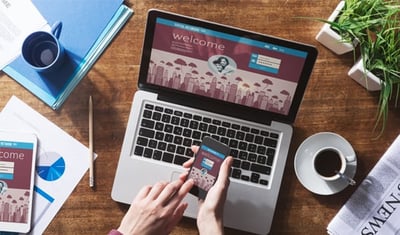 WordPress + HubSpot CMS: Should I Move to HubSpot?
WordPress is HubSpot CMS' main competitor, and for good reason, it's the most popular content management system (CMS) in the world.
HubSpot has been building a great platform over the years that offers many benefits over WordPress or other systems. HubSpot as whole aims to make your marketing life easier by providing an all-in-one digital marketing platform that helps organizations grow their business, generate leads, convert sales, create a personal brand, and earn more profit from each customer.
WordPress CMS is a free and open-source CMS with immense popularity across internet users. WordPress started out as a blogging platform but now includes a full stack of tools for website creation, e-commerce options, and more. WordPress is easy to use, installs quickly on any server or web host, and allows you to build websites with little or no technical knowledge.
HubSpot CMS outpaces WordPress in three ways:
1) Cost: While WordPress is "free" it requires several plugins, updates, and constant supervision making your website almost a full-time job. And, if you don't have coding or developer knowledge it's often a struggle to make simple updates requiring a partner to manage your site to make even the smallest of changes.

2) Functionality: HubSpot CMS is built with sales and marketing in mind. It provides SEO recommendations, website themes, CRM contact, company management, a drop-and-drag editor and so much more. This CMS investment isn't just a website tool. Is a Content Management System that enables a data-driven go-to-market team and frees you from costly vendors and partner management fees.

3) Support: HubSpot Support is top-notch, HubSpot cares for their customers providing live support 24/7. Hubspot is constantly releasing updates - that are simple and seamless - to help users improve the functionality of HubSpot CMS Starter. IF you need help, outside the massive partner and customer community; HubSpot support is just a call, email, or chat away.
Which HubSpot CMS Level is right for me?
Now that you're made up your mind about WordPress and you are ready to put all those aforementioned challenges behind you, here's a quick guide to help you compare the HubSpot Level that is right for you.
HubSpot CMS Starter

HubSpot CMS Pro

$25 p/m

$400 p/m

Standard SSL certificate and web application firewall (WAF)

Website themes with a drag-and-drop editor

App and asset marketplace with all the other HubSpot free tools

Live chat

Forms + Landing Pages

Reporting dashboard

Mobile optimization

up to 10 pages and up to 1 blog

Everything in Starter, plus:

Smart content & reporting
Dynamic personalization
Password-protected pages
Contact create attribution and A/B testing
Custom reporting
SEO recommendations & optimizations
Content strategy and content staging
Google Search Console integration
Why HubSpot for Your Website
HubSpot CMS offers a comprehensive solution for small businesses looking to enhance their website performance. With a range of products like HubSpot CRM, HubSpot Sales, HubSpot Marketing, HubSpot Operations, and now the HubSpot CMS Starter, businesses can easily manage their inbound marketing efforts and convert leads into customers. The HubSpot CMS Starter is specifically designed for small businesses, freelancers, bloggers, and non-profits, offering a user-friendly interface and mobile experience for easy website management. If you're tired of spending too much time on CMS maintenance, struggling with plugins and new features like WordPress, or facing difficulties in making changes or adding new designs, HubSpot CMS can be the perfect solution.
HubSpot takes care of maintenance, security, and development work, allowing you to focus on building remarkable websites. Moreover, the integration of CRM and CMS provides valuable insights for informed web strategies. Compared to WordPress, HubSpot CMS offers cost-effectiveness, enhanced functionality, and top-notch support. So, if you're ready to overcome your website challenges and unlock the full potential of your business, consider moving to HubSpot CMS.
CMS, WordPress, HubSpot, oh My!
Decisions, decisions. We've all been there. You need a website, and the one you have isn't working for you. It doesn't reflect your company and who you want to be. You're sick of spending all your time on your website. Whatever reason brought you to our article today, we're glad to have you. But, more importantly, we hope we can solve some of your challenges and get you and your website on the path to success. If you want to talk with our team and walk through how HubSpot CMS can benefit your business, schedule a demonstration with MarketDesign here.