It's hard to overstate the importance of the customer experience (CX) when it comes to business.
For example, 96% of customers state that customer service is key in their decision to remain loyal to a brand. Furthermore, according to the same source, companies who prioritize CX drive up to 8% more revenue each year than their competitors!
The result? It's in the interest of every company, regardless of size or industry, to improve the CX at every opportunity.
The good news is that there's no shortage of ways to succeed here. Of them all though, thank you pages represent one particular strategy that can deliver incredible results. Done well, a killer thank you page will improve the CX, build the brand, and drive ongoing returns well into the future.
Want to learn all about this underutilized aspect of effective marketing? Keep reading to discover the importance of thank you pages and how to create them.
What is a Thank You Page?
Almost everyone who uses the internet will have come across thank you pages in the past.
Think about the last time you bought something online, signed up for a newsletter, or downloaded a freebie. There's a good chance you were taken to one straight afterward. A big "thank you" may have appeared on the screen, alongside a brief message from the website/company.
Sound familiar? Well, that was a thank you page!
At their core, they're simple web pages you send people to after they perform the desired action on your site. Their basic function is to thank the person for whatever they just did- exactly as a retail assistant says 'thank you' after you purchase something in a brick and mortar store.
However, if you know what you're doing, these clever marketing devices (sometimes known as conversion pages) can deliver far more value. More on this coming up…
Why Are They Important?
On one hand, thank you pages are a basic courtesy to your customers. It's about respect, good manners, and showing genuine appreciation that they came to you over somebody else.
This helps build rapport with your audience and lifts retention rates as a result.
In the process, though, these pages can offer even further rewards. They provide the perfect opportunity to learn more about your customers, ask for their feedback, encourage additional sales, and/or develop brand awareness.
Remember, the customers see the thank you page because they just bought or signed up for something. That means they're on your side. As a hot prospect, you've got your foot in the door, which should make it easier to engage with them some more.
Unfortunately, most businesses say 'thank you and then send customers on their way. That's like leaving money on the table!
Read on to learn how to change that state of affairs and maximize the ROI of your thank you pages.
How To Create a Killer Thank You Page
Now we know the value that's on offer, let's turn to a set of strategies that deliver the goods! As you'll see, wringing the last drops of potential from thank you pages doesn't have to be difficult. Here are 4 top ways to do it:
1. Request Referrals
Improving CX is of huge importance when it comes to succeeding in business.
But making money is fundamental! Fail to make enough sales and it won't be long before the business has to cease operations.
That's why every enterprise under the sun has to work hard to retain current customers and attract new ones.
Thank you pages help with both!
First, the 'thank you' promotes positive feelings that should boost retention rates. From there, though, you can encourage that happy customer to refer somebody new. All you do is include a brief message asking them to tell someone else about your product/service.
2. Increase Exposure
Think a referral is pushing it? Why not ask your audience to share your page on social media instead? Your brand awareness will increase and, with any luck, you'll get new leads and customers through the digital door too.
Throw an incentive into the mix and you'll see even better results. For instance, you could enter the customer into a prize draw if they agree to share your content. Get ready for newfound exposure!
3. Increase Your Authority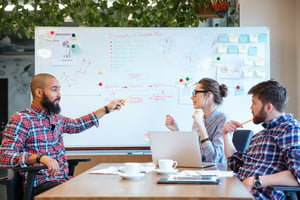 Imagine that somebody's seeing your thank you page after signing up for a newsletter, registering for an event, or downloading a resource. In other words, they haven't bought anything yet.
Now's a great opportunity to demonstrate your expertise. You could link out to your best content, or your 'About Us' page, and ask them to take a look. As your audience learns more about you, they'll come to trust you more as well.
The likelihood of them becoming a customer in the future goes up accordingly.
4. Survey Your Customers (Ask for Feedback)
Business success is predicated on constant improvement. You have to be on the constant hunt for ways to increase efficiency, deliver higher quality, and eradicate issues along the way.
That's why getting customer feedback is so valuable. You hear straight from the horse's mouth what you did right, what went wrong, and how you can get better. The company can then alter course in line with customer needs, without having to guess.
Including a short survey on your Thank You page is an effective (and inexpensive) way to get your hands on that data! Simply include a link to the survey with a call to action asking them to participate. It shouldn't take long for the feedback to start coming in.
Time to Create Some Killer Thank You Pages
Are you looking for ways to improve the CX within your business? Well, thank you pages are one of the best (and more underrated) ways to do it!
Hopefully, this post has demonstrated why that's the case and offered some valuable tips to help you use them to full effect. Keep them in mind and you'll be on your way to newfound sales, exposure, and all-around success in no time.
Are you a tech company looking for professional support for your marketing needs? Get in touch today to see how we can be of service.