Here are the facts my friends: "90% of B2B buyers use online search as they make purchase decisions," so if your prospects are spending their time online to help make decisions, shouldn't you be spending your time in the same place? The truth hurts.
If inbound isn't part of your strategy, it is part of your competition's plan, and the longer you wait, the longer it's going to take Google to be your friend. Since the "most successful B2B marketers spend 40% of their total marketing budget on content marketing," a key component in inbound, how much longer can you afford to hide your brand in sales collateral?
Let's take this a step further, shall we?
In theory, all marketing tactics typically fall into either branding and awareness or demand generation in my book. Awareness is top of the funnel where you demonstrate thought leadership, promote your brand messages, and share your company story with the world. Awareness or brand initiatives, while necessary, are not always quantifiable when it comes to true Marketing Return on Investment (MROI). Demand generation activities, while they will certainly help build your brand, are primary activities focused on driving new leads into the funnel.
Demand Generation is the Goal of Inbound Marketing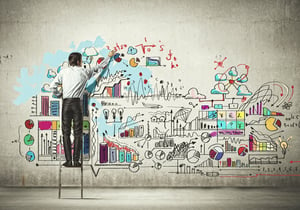 Inbound marketing is a demand generation initiative with the primary goal of increasing speed-to-sale by generating marketing qualified leads. Marketing qualified leads (MQLs) are prospects (or customers in cross-selling situations) that have taken an interest in a piece of content you have created. MQLs are broken up into categories by area of interest via actions taken and lead scoring in your business enablement tool.
So let's test out this theory with your friends in sales. If you ask your sales team about the leads they are getting from marketing, they may say, "what leads," or something like, "they aren't ready to be talked to, yet" or my personal favorite; "they aren't the right fit." To a marketer, we're frustrated. But they may be right. If we are sending over every single person who subscribed to our newsletter, they are right 😱.
When you send them real MQLs with name, company, email, phone number, and area of interest (with precisely what they downloaded and read, or the webinar they joined), they have a different tune. And here's the best part, they will pick up the phone (believe me, I've seen it).
Here are a few stats to help your sales and marketing alignment:
How Inbound Marketing Works
Lead generation is an undoubtedly critical component of any marketing strategy -- in fact, 85% of B2B marketers say lead generation is their most important content marketing goal. So, if the purpose of inbound marketing is to generate leads, then let's walk through a typical inbound marketing lead generation process:
First, a visitor discovers your business through one of your marketing channels, such as your website, blog, email, ad, or social media page.
Next, the visitor clicks on your call-to-action (CTA) — an image, button, or message that encourages the visitors to take some action.
The CTA takes your visitor to a landing page, which is a web page that is designed to capture lead information in exchange for an offer. An offer —also commonly referred to as a lead magnet, resource, content offer—is something of value that's being "offered" on the landing page, like an ebook, a demo, or a template. The offer must have enough perceived value to a visitor to warrant their business information in exchange for access to it.
Once a visitor goes to the landing page with a specific offer, you have a new marketing qualified lead.
To further qualify, we put a form on the landing page. The form on your landing page consists of a series of fields that collect information in exchange for the offer. Forms are typically hosted on landing pages, although they can technically be embedded anywhere on your site.
Once they fill out the form — voila! — You have a new sales qualified lead!
The distinction here is that clicking the CTA is an expressed interest in an offer. You have enough information to justify saying that your visitor is interested in your offer. For new or hungry salespeople, this extra level of qualification is more than enough to get this person on their prospect list and do some digging for their email or phone number if it's not in your CRM already. We call these Marketing Qualified Leads because we've provided an area or topic of interest.
Filling out the form is a Sales Qualified Lead action that warrants an immediate phone call from sales. Here, the visitor has a high or urgent enough interest in the topic that they want to continue educating themselves. This extra step and form submission gives sales the contact information and means to follow up. Once you put each of these elements together, you can use your various promotional channels to drive traffic to your landing page to start generating leads.
According to DM News, the three most commonly used B2B lead generation strategies are email marketing (78%), event marketing (73%), and content marketing (67%), and we believe it. Many IT resellers still rely heavily on events to drive demand for their organizations. The challenge we see with events? They are costly and often used in the wrong place in the flywheel.
Most lead generation events, think lunch and learn, should be considered middle or bottom of the funnel tactics. Unfortunately, many companies are using lunch and learn and tradeshows as lead generation activities with the goal of new customers and new business. The frustration from clients goes something like this. "Hey Jim, how'd the lunch and learn go?" Jim responds: "You'd never believe who showed; Sam and the guys from Acme came for lunch, again, and all three prospects who RSVP'd Bailed." 🙄
Why IT Resellers Outsource Content Creation + Inbound Marketing Campaigns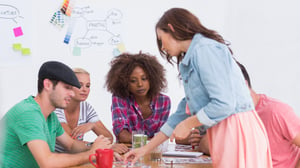 Now that you know your audience is looking to do their own research before they spend time with sales, what inbound marketing is, and how it works, the next logical question is how does your VAR get started in your inbound journey?
First, let's call out the challenges. The top two reasons B2B marketers don't develop a plan to execute a content marketing strategy are reportedly a small internal team (67%) and lack of time (44%) (source), sound familiar? That's why outsourced inbound marketing is so common.
We often see resellers and VARs gravitate to agencies for inbound marketing who:
don't have technical writers who understand the industry well enough to create the content,
have a small team or entry-level marketers who manage mainly events, day-to-day department support, and/or
don't have a dedicated marketing person at all and need part execution, part strategy, and all the leads.
Even if you're a reseller who has marketing in-house—or you are the marketing person on staff—resellers will often choose to outsource their inbound marketing because it ensures execution, consistent conversations with your audience, and it is easily reimbursable through manufacturer and distribution Joint Marketing Funds (JMF).
How Much Does it Cost to OutSource Inbound Marketing Services?
Inbound Marketing costs 61% less than traditional outbound or push marketing tactics. Let's break this down.
To hire an IT Marketing Services Firm to run your inbound marketing plan and build your content marketing strategy, you're looking at anywhere from $3,000 to upwards of $10,500 a month. Sometimes we think of inbound marketing as just blogging; however, a true inbound marketing strategy should include content creation, promotion, SEO, and advertising to help drive short and long-term results.
An outsourced content marketing package for $3,000 a month typically includes:
your content marketing plan creation
interviewing your subject matter expert,
writing and design of your blogs, content offers, social, landing pages, and thank you page content,
execution, and
reporting on your results.
Why the discrepancy in cost? On the low end, outsourcing content marketing in the IT space typically starts at $3,000 because we are repurposing content, creating less of it, and/or not creating as many high-end resources so your conversions will take longer to achieve. At the high end of the budget, between $6,500 and up, you've got an actual inbound marketing strategy, not just a content plan.
In a growth marketing plan, as we call them at MarketDesign, outsourced Inbound Marketing Services for VARs include content marketing, SEO, content syndication, paid search, and often advertising in key social networks. Plus, we're done detailed keyword research to increase the value of the content we are producing, and we're incorporating a higher level of research and technical knowledge into each piece. This level of services, technical expertise, and frankly, time, typically come in at a premium and usually start around $6,500.[I should be transparent with this disclaimer. I can't speak for all agencies or consulting firms in the IT marketing services pace. Still, given my research, current clients, and average deliverables, this pricing structure rings true here at MarketDesign.]
Inbound Marketing Statistics You Need to Know
Ready to adopt inbound marketing for your VAR? Here are a few other stats to confirm you're in good company (as promised):
Arm yourself with more leads this year. Schedule a free no-obligation Inbound Strategy Review with MarketDesign Consulting, valued at $250. Talk through your current marketing plan and ideas, and your goals for the new year, and get tangible tips and suggestions for where and how inbound should fit into your plan and the expected results. Talk with the experts at MarketDesign today.