MarketDesign clinches the first position in the CIO Review list of top 10 most prominent and innovative marketing agency partners. The company satisfied the CIOReview's editorial with simplified, innovative, and integrated inbound marketing strategies. This award and recognition rubberstamp MarketDesign's reputation as a HubSpot Certified Platinum Partner. MarketDesign achieves this accolade in less than two years, partnering with HubSpot.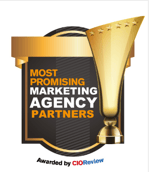 The award is good news to Kara Rudy, the President, and CEO of MarketDesign, who is leveraging her 15 years of IT experience to power businesses with technology-driven marketing trends and insights. As MarketDesign advances its HubSpot partnership, Rudy remains optimistic about the role, success, and vision of her company in powering more businesses' marketing strategies.
"Innovative IT has always been my focus. With streamlined omnichannel sites, marketing, sales and service teams can gain real-time insights into customer activity and engagement. This enhances business operations by painting an accurate picture of the market situation, and how the business is responding to it. This award and recognition from CIO Review embodies the success our clients are having in bringing their teams together and engaging customers directly to build a string brand. I will continue to strengthen our partnership with HubSpot platform to provide our clients with efficient business tools that convert leads. I'm excited since we're expanding our unlimited guidance and support to help businesses adopt data-driven marketing strategies." says Kara Rudy.
Topping the CIO Review list is a remarkable success that will go ahead to encourage more businesses to work with technology-driven marketing agency partners like MarketDesign. To sore these greater heights, MarketDesign leveraged the following innovations:
Empowering its clients with effective digital marketing tools for their SaaS/MSP/VAR businesses

Enhancing brand visibility for their clients through website optimization, HubSpot consultation, and high-rate conversion marketing campaigns.
CIO Review is a reputable source for information about IT-driven companies. It airs the opinion, news, insights, and analysis of industry experts, C-suite executives, and executives. The award and recognition of MarketDesign by CIO Review is a testament that MarketDesign is taking over the IT and digital marketing space.
About MarketDesign Consulting:
MarketDesign leverages over 15 years of industry experience to build and distinguish business brands through digital marketing campaigns and an integrated customer relationship management platform. MarketDesign takes pride in equipping businesses with the right tools, processes, and marketing strategies to amplify their voice by enhancing brand visibility. Grow your brand with MarketDesign and get unlimited IT business support.
"We've been in VAR/MSP shoes and we know what works, because we've seen it, tried it, and refined it over a decade,"begins Kara Rudy, owner of MarketDesign Consulting.
Read the full article. Visit CIOReview website