Where Business Strategy Meets Creative Marketing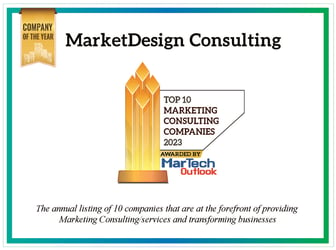 MarketDesign Consulting (MDCo) is proud to share that it has been honored by MarTech Outlook as the Top Marketing Consulting Company of the Year for 2023.
The publication sat down with Founder + CMO, Kara Rudy, to talk about how MDCo works with its clients in the technology space, serving as part marketing strategist and part business enablement partner.

In the article, Kara shares MDCo's 6P's of Progress framework, a distinguishing approach designed to drive alignment and accountability across each domain of a client's business—from the C-suite through to marketing, sales, and service.
"Clients come to MarketDesign when they recognize they have a gap at the leadership level with accountability to the business success, they need actual marketing strategy and execution to grow their business, and/or they need to rightsize their people, process, and platforms to drive growth moving forward. With everyone on our team working with, for, or in technology we've heard the challenges and have developed plans and processes to right the ship or align the teams. This is why we don't call ourselves a marketing agency; because we are so much more," says Kara Rudy, Founder + President of MDCo.
Working exclusively with VARs, MSPs, SaaS companies, SI/SPs, and technology start-ups, MDCo provides a unique perspective backed by years of experience and proof points. Having working with, for, and in these technology companies, the team is keenly aware of the industry, the challenges, and what it takes to wow audiences and win business. With marketing influenced revenue nearing $100M in just five short years; MarketDesign drives irrefutable year-over-year growth.
Read the full story: MarketDesign Consulting | Where Business Strategy Meets Creative Marketing