Boutique IT Consulting Firm Adds Creative Leadership to its Growing Roster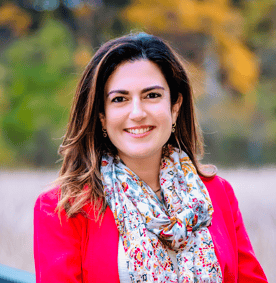 [Syracuse, New York], November 22, 2021—MarketDesign Consulting is pleased to announce that Christina Nordquist Jacobs has joined the company as its Creative Director. Christina, who is based in the company's Rochester Hub, will report to Kara Rudy, Founder + CMO.
Christina attained her undergraduate degree in Communications from Le Moyne College and is currently finishing an Executive Master's in Communications Management from the Newhouse School at Syracuse University. Prior to joining MarketDesign, Christina was the Director of Content Marketing for Rochester-based advertising agency, Dixon Schwabl + Company. Christina's tenure also includes 10+ years of IT marketing and communications experience working for the likes of regional MSP, Annese & Associates, Inc., and global IT service provider, ConvergeOne.
"I'm thrilled at the opportunity to join MarketDesign—a true force to be reckoned with in the IT marketing arena," says Christina. "I look forward to helping our clients design their unique space in today's crowded tech market. I love working with brands to uncover those moments when technology innovation intersects with human ingenuity. That's where the magic is. These are the stories that move the needle; the stories we want to help you tell."
The latest addition to the MarketDesign team in 2021 marks a 500% full-time employee growth, leading to yet another year of 50% year over year growth for the Syracuse-based consultants. As Creative Director with MarketDesign, Christina will be a key member of the company's senior leadership team, responsible for creative and communications strategy and execution. Specifically, Christina will act as a Strategist to understand client needs, heighten their brand, and amplify their success.
"Adding the Creative Director role at MarketDesign is a critical piece for our growing consulting firm," Kara Rudy, MarketDesign President + CMO shares. She continues, "This role gives our clients another layer of expertise with Christina; with her technology, marketing, and communications background she is the perfect addition to our Leadership team and will continue to elevate our digital, content, and communications services for all our clients. Christina also provides depth to our client success group with several HubSpot certifications and years of experience in the platform. I'm honored that Christina has chosen to work with the MarketDesign team and I am thrilled to be working with her again. To be able to bring great colleagues back together and continue to bring our clients new ideas, insights, and successes is what makes growing MarketDesign so rewarding."
About MarketDesign
MarketDesign brings over 15 years of IT and marketing experience to our technology organizations across the US. By building brands, telling stories, and driving results, MarketDesign is committed to doing our part to cure cancer with annual investments of our time, money, and resources. You get a nimble, accountable, and inquisitive mar-tech-specific team that translates to brand differentiation and results for your IT business. Unify your team and differentiate your brand with MarketDesign. www.marketdesignco.com