Lexah Pyskadlo to join MarketDesign Consulting as the newly created project coordinator role.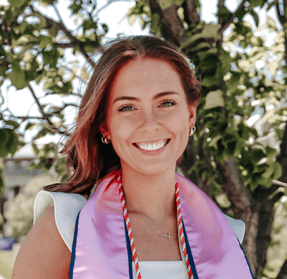 [Syracuse, New York], August 16, 2021— MarketDesign Consulting has announced that as they continue to grow, they have brought on Lexah Pyskadlo as Project Coordinator. Lexah's attention to detail and creative forward-thinking will help lead the MarketDesign team and their clients to continue to grow with timely response, execution, and reporting.
"I am beyond excited to start my full-time professional career at MarketDesign!" States Lexah, "I believe my role here is the perfect way to demonstrate what I have learned in my undergraduate studies while nourishing my leadership and organization skills. I cannot wait to see the impact that I can make at MarketDesign and how the company will help me grow as a young professional."
As a Project Coordinator, Lexah will be responsible for coordinating with all internal teams and colleagues to ensure projects and tasks including but not limited to; website redesigns, content strategy, design, and rebranding are documented, assigned, and completed promptly. A critical role for MarketDesign, the Project Coordinator guarantees that the company functions as a well-oiled machine; closing out each day with clear expectations, open items, and deliverables that are documented and distributed to all critical parties.
Lexah has just recently graduated from Syracuse University with degrees in Advertising and Information Management & Technology. Before joining MarketDesign, Lexah was an Athletic Website Data Curator at SIDEARM Sports and a Teaching Assistant at Syracuse University's iSchool.
The MarketDesign Consulting team is excited to have Lexah on board. Leslie Jemiolo, the Director of Client Success shares, "I am thrilled to welcome Lexah to the MarketDesign team. Her strong attention to detail, fervent follow-through, past web design and technology experience, and forward-thinking nature make her a key asset to our team. I am looking forward to a prosperous future together!"
About MarketDesign
MarketDesign  brings over 15 years of IT and marketing experience to our technology organizations across the US. By building brands, telling stories, and driving results, MarketDesign  is committed to doing our part to cure cancer with annual investments of our time, money, and resources.  With MarketDesign  you get  a nimble, accountable, and inquisitive mar-tech team that translates to brand differentiation and results for your IT business. Unify your team and differentiate your brand with MarketDesign. www.marketdesignco.com